LEGITIMATE STUDIES UNRECOGNIZED

LINK Vol 2 Part 1, 31:58 ~*~ LINK Vol 2 Part 2, 32:33 ~*~ LINK Vol 2 Part 3, 37:48 ~*~ LINK Vol 2 Part 4, 33:58 ~*~ LINK Vol 1, 1:51:14. ~*~ SECRET SPACE by Chris Everard, a UK commentator, brings history to life, the connections showing our continuous human experiences of UFOs and ETs and their impact on human life, down through the ages. This reality is simultaneous with the CURRENT TRICK by the US Government of mimicking UFO's in the skies, to focus our FEAR on externals, rather than on internal treason (selling out Humanity to Orion-ETs) and wholesale corruption of the State and the Rule of Law TO TYRANNY in the form of a New World Order, ORION [Hitlerian] STYLE.
LINK
Ethnogenic Shamism : Ancient Astronauts History & Modern Shamanism , Monroe Institute, 2007. 52 min. THIS IS A DEEPLY RESEARCHED PIECE OF JOURNALISM.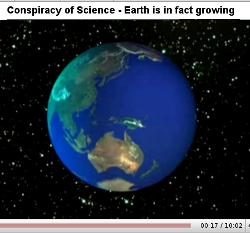 LINK
EARTH IS GROWING This video is a Neal Adams animation about his theory that the Earth is growing. This collides with the Pangea theory.
LINK Pt 1 ~*~ LINK Pt 2 ~*~ LINK Pt 3
Hollow Earth excerpts from the Book, "Beyond Science Fiction," by Jim Wilhelmsen (Amazon.com); 8:51.
LINK
Nassim Haramein at the Rogue Valley Metaphysical Library. The Universe is not what they say. Physics is a lie too. Nassim Haramein at the Rogue Valley Metaphysical Library. 2003. (4 HRS) - 243 min - Dec 24, 2007, Rogue Valley Metaphysical Library - theresonanceproject.org ... If you are not yet familiar with Nassim Haramein's exciting work, prepare yourself for an exhilarating odyssey into hyperspace and beyond. H...all

LINK
Stargates of the Gods william Henry traces ancient Sumerian/Annunaki History, In parts, 2007.
link
The Crop Circle Ship - Blueprints in the Crop Circles short version.
LINK local download version CROP CIRCLE SHIP (.avi format) by Jeremy Stride of Crop Circle Ship dot com; 20 and 60 minutes, 2005.
LINK
Thunderbolts of the Gods, Electrical Cosmology, by thunderbolts@dccnet.com . Watch this film and in an hour know more than most NASA scientists about the fundamental force that forms and sustains the universe. The Thunderbolts Project calls into question not only countless modern scientific assumptions, but also the billions of dollars of big-science government and corporate funding that continues to preserve and entrench questionable theories - elevating them to the status of doctrine - while systematically excluding legitimate alternatives that threaten the status-quo. 1 hr 2005.